ECRL paving the way for freight transport switch from road to rail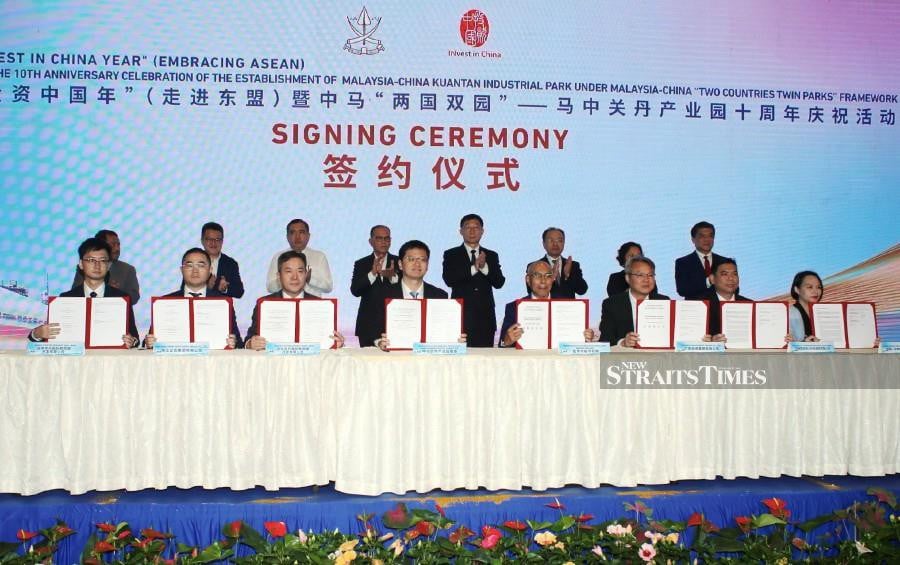 Transport Minister Anthony Loke (3rd-left), Pahang Menteri Besar Datuk Seri Wan Rosdy Wan Ismail (4th-left) with Deputy Miti minister Liew Chin Tong (2nd-left), China's Guangxi Zhuang Autonomous Region Communist Party Secretary Liu Ning (centre) during the MoU signing ceremony in Kuantan.
Reported by T.N. Alagesh/ NSTP/FARIZUL HAFIZ AWANG
The East Coast Rail Link (ECRL) is expected to be operational in early 2027 and will accelerate the shift of cargo movements from road to rail to help ease congestion and environment-related concerns. Transport Minister Anthony Loke Siew Fook said that once cargo was extensively moved by rail between the east coast states and the Klang Valley, it would reduce the movement of huge lorries on the roads.
The main priority of the project was to connect Kuantan Port and Port Klang in Selangor to boost cargo transportation at both ports. The main stations along the stretch will not only focus on passengers but serve as hubs for cargo including in Mentakab and Bentong. Upon completion, the ECRL will be the catalyst for industrial areas in Pahang especially in terms of connectivity. The Malaysian government has announced that the ECRL, along with the strategically located Kuantan Port, will be a plus factor in attracting investors to Pahang.
The minister reiterated that China's investment in developed countries including Malaysia through the Belt and Road Initiative (BRI) should not be viewed as a "debt trap" but instead seen as a strategic partnership. The 640km-long ECRL, launched in 2017, will traverse the east coast states of Pahang, Kelantan and Terengganu through to the Klang Valley. On MCKIP's 10th year anniversary, the minister said the industrial park is a testament to the robust economic ties between Malaysia and China. He also thanked China's Guangxi Zhuang Autonomous Region Communist Party Secretary Liu Ning and Chinese ambassador to Malaysia Ouyang Yujing for their commitment and confidence in Malaysia.
Continue Reading: https://www.nst.com.my/news/nation/2023/04/897300/ecrl-paving-way-freight-transport-switch-road-rail