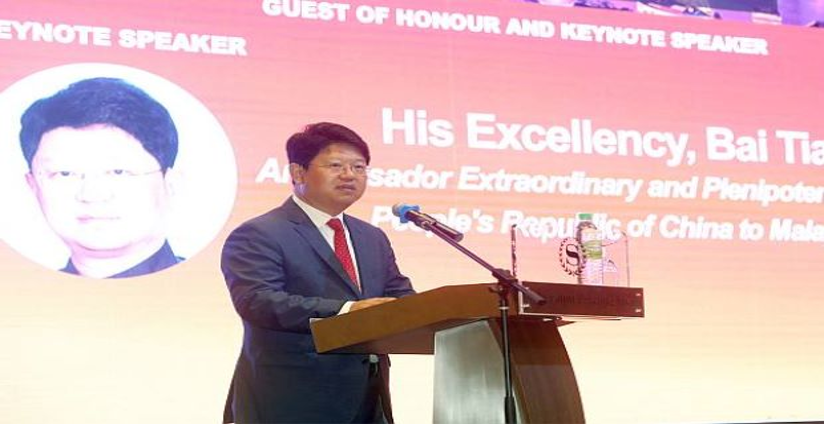 Bilateral trade volume between China and Malaysia has reached US$100bil and China has remained Malaysia's biggest trading partner for 10 consecutive years.
China's Ambassador to Malaysia Bai Tian (pic) said the country's foreign direct investment (FDI) in Malaysia's manufacturing sector has more than quadrupled over the past five years, being the largest source of foreign investment in the industry for three consecutive years.
"Malaysia is among the first countries to support the Belt and Road Initiative (BRI) and is also one with the most early harvests. Under the BRI, cooperation between China and Malaysia in various fields has expanded," he said in his keynote address during the Malaysia-China Outlook Forum 2019 here yesterday.
The forum with the theme "What's Next After Beijing BRI Fourm" is organised by Star Media Group.
LBS Bina Group is the sponsor, Sheraton Petaling Jaya is the official venue while the Associated Chinese Chambers of Commerce and Industry of Malaysia is the working partner.
By the end of 2018, Chinese companies have invested in 422 projects in the manufacturing sector, creating about 73,000 jobs in Malaysia.
"We believe that with the passing of time and the synergy of all parties, the Belt and Road cooperation will definitely become deep and concrete, steady and extensive.
"It will become a road of peace, prosperity, opening up green development, innovation, connected civilizations and clean government," Bai Tian said.
He cited a few examples such as the China-Malaysia Qinzhou Industrial Park and the Malaysia-China Kuantan Industrial Park, often referred to as the "Two Countries Twin Parks" and projects such as the Gemas-Johor Baru Railway are advancing steadily.
Bai Tian added that ECRL is also back on track after friendly consultations and the China Railway Rolling Stock Corp has set its rolling stock plant in Perak, which has the highest technological level and largest production capacity among Asean countries.
"Proton is now on the verge of turning a profit, just after a one-year cooperation with Geely.
"These tangible results and achievements have earned the BRI adamant support from the Malaysian government and people, encouraging more and more people to devote themselves to China-Malaysia cooperation under the framework of BRI," he said.
Currently, a total of 124 countries and 29 international organisations have inked BRI cooperation documents with China.
Total trade between China and BRI countries have surpassed US$6 trillion and Chinese enterprises have invested over US$90bil in BRI countries, creating about 300,000 jobs.
"We live in a global village nowadays. With cooperative initiatives like the BRI, we build roads, bridges, connect countries and promote mutual understanding.
"We achieve common prosperity by cooperation. These are our common goals. But on the other side, certain countries are now holding high the banner of protectionism and unilateralism, sparing no efforts building walls on borders and walls in trade," he said.
Commenting on the ongoing trade tension between China and the United States, Bai Tian said there is still a ray of hope as leaders of both countries have reached some positive consensus during the G20 Summit last week.
"We wish the US side would live up to its words and meet half way with the Chinese side.
"A mutually beneficial solution through dialogue and discussion would be achieved at last, which will bestow the global market with confidence and vitality," he said.
Bai Tian added that the trade war is a war of no winners but with all losers. He described it as being a war between openness and isolation, inclusiveness and exclusiveness, win-win cooperation and zero-sum selfishness.
"To build roads or to build walls, the choice is yours. I believe countries around the world, including Malaysia, would identify the right path and make the right choice by tearing down the walls of selfishness and building the road to common prosperity.
"No matter where the chips fall, China will stay committed to the reform and opening up. China will continue to join hands with other countries, making the world more open, inclusive, balanced and beneficial for all," he said, adding that as China opens wider to the world, it will certainly foster more positive dynamics with the world and bring about more benefits to the people from all countries including Malaysia.
Source: https://www.thestar.com.my/news/nation/2019/07/09/malaysiachina-trade-hits-us100bil/